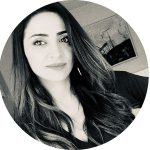 "Doing this course has been a good choice because it has helped knowing and introducing myself in the world of footwear, going deep on every detail of this area. It has been a pleasure being able to carry it out since I come from a totally different area, such as marketing and business management. I have taken full advantage to obtain a complete learning in this field."
"I found in the course of Shoe Design Expert a world full of possibilities to create and design products loaded with innovation; an opportunity to complement my curriculum as a fashion designer from a new design perspective. And personally I discovered a passion, which until then was unknown to me, footwear design has led me to pursue new goals in my career."
"A quite complete course, after several years trying to do it in Elda, it has been a success to bring it to Madrid! Ideal for those who want to dedicate themselves to the world of footwear in a professional way, even starting from scratch, a good rhythm of learning. A great Rhinoceros success. The teachers are very involved as is the organization. Happy with the course."
Flip Flop College has collaboration agreements with various universities, business schools and prestigious entities.